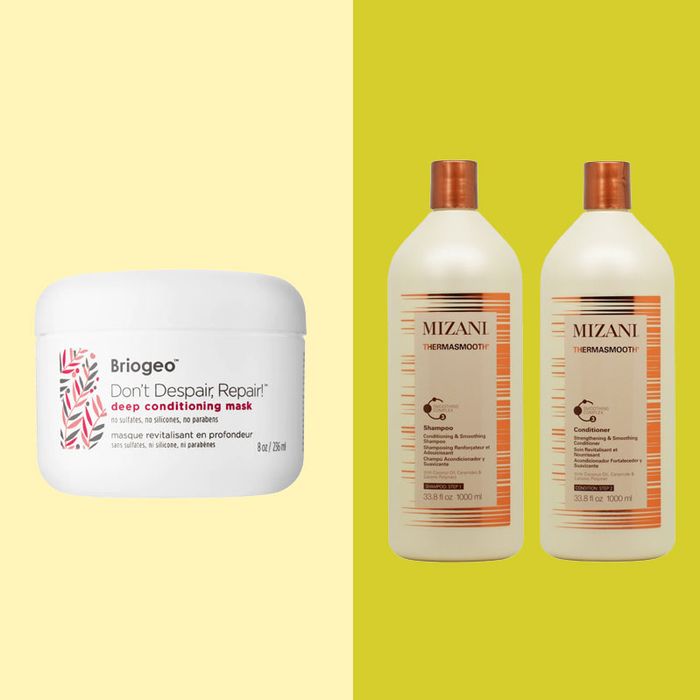 Photo-Illustration: retailers
Natural hair gets most of the attention, but plenty of people still do get relaxers. This treatment chemically straightens the hair, typically with sodium hydroxide, which breaks down hydrogen bonds inside coily hair to produce a straighter strand. Like with any other chemical treatment (hair dye or keratin), a relaxer can weaken and damage the hair. There has also been some research linking excessive use of certain relaxers to a higher risk of estrogen-receptor-positive breast cancer. Hair damage and potential toxicity are two reasons why so many women have embraced their natural curls. Still, last year Hampton, Virginia–based stylist Joie Wallace says she saw a reversal: an uptick in people getting relaxers. "A lot of people that were natural and having that maintained in the salon, felt like they couldn't handle it themselves, so they actually put relaxers in their hair," says Wallace. Many people find straight hair easier to care for and if you're someone who regularly wears your hair straight, not having to iron out your coils every wash day makes that process much more simple. "I have a lot of clients who still have a relaxer and their hair is just as healthy as the natural-hair girls," says Mika English, founder of Grew by M.E. It just has to be done properly.
With that in mind we asked Wallace, English, and four other hairstylists about how to relax your hair properly and what you can do to keep it healthy.
It's the professional recommendation of all our experts to have a licensed stylist apply your relaxer, in a salon setting, but we know some of you do this at home. So we want to give you the guidance to do it right. Having the best products is a good starting point. As mentioned above, the main ingredient in relaxers is sodium hydroxide, but Wallace explains that there are actually four chemical straighteners on the market: sodium hydroxide, calcium hydroxide, lithium hydroxide, and ammonium thioglycolate. Sodium hydroxide, also known as a lye relaxer, is commonly used in salons by professionals as it is effective and very strong. Lye relaxers are also those that some believe are linked to an increased risk of cancer, and lye is the same ingredient found in industrial solvents and can be highly corrosive, so many argue that it is not fit for your hair, which is why there are so many alternatives. Calcium hydroxide, lithium hydroxide, and ammonium thioglycolate are commonly marketed as no lye relaxers, but they all have some amount of lye in them. "The proportion of Lye versus other ingredients in the relaxer can vary from brand to brand, with some companies choosing to label theirs 'No Lye' to give the impression that it's a safer product to use, when in fact there is still lye present," says Mellissa Phills, a stylist with Yeluchi mobile hair salon. Calcium hydroxide is pretty synonymous with "no lye" relaxers and is milder than sodium hydroxide and therefore recommended for home use. Most of our experts also recommend no lye, with the caveat that the calcium build up on the hair makes it drier.
Lithium hydroxide is another type of straightener that Wallace says can be used in conjunction with low volume hair coloring, because "it won't break the hair as much, and will be much more gentle on the hair and smooth the hair out," but traditionally getting a relaxer and color on the same day is a no-no. Finally, ammonium thioglycolate won't fully straighten the hair but will give it a permanent wave like a jheri curl or perm.
When it comes to specific brands, three of our experts name dropped Mizani as one they trust. "I've personally been a huge fan of Mizani for years, as they offer a wide variety of higher end relaxed hair care products," says Phills. Mizani's Butter Blend relaxer, is one of Kadeisha Placide's, the owner of Classic Beauty Studio, favorite lye relaxers. English also loves Mizani but only uses no lye, and goes for the fine and color treated version of Butter Blend. For a no-lye option Placide likes Design Essential's Lo-Lye Conditioning Relaxer With Shea Butter, and Wallace uses Syntonics, a KeraCare brand. While you might find a one-off of these relaxers on Amazon or Overstock from a third party seller, you need a license to purchase these professional grade products, so we don't recommend purchasing them there.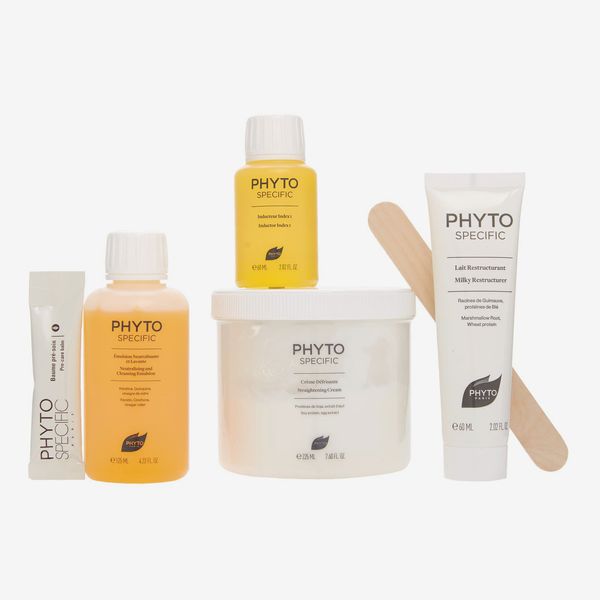 This is the one relaxer we heard of that is legitimately available for purchase without a license. Phyto Specific is a plant-based relaxer with no chemicals, so when we say this one is no lye we really mean it. It's made with soy, egg, and shitake mushrooms instead of sodium hydroxide so it's more gentle. It also only takes out 95 percent of your hair's texture instead of 100 percent, which Wallace appreciates. "If I relax hair I don't like to relax all of the texture out of the hair because curl is what actually maintains the body and movement of the hair," she says. It's definitely more expensive than other chemical straighteners on the market, but Wallace says it's well worth it — plus, you get everything you need. It comes with a base, and a cleanser to stop the processing and a Milky Restructurer that acts like a conditioner. There are two versions. Index 1, which is for fine and color-treated hair and Index 2 for more coarse textures. The brand recommends consulting a professional before use, if you'd never done your own relaxer.
Relaxer application begins with parting your hair and applying a "base." The term refers to a petroleum-based product used to protect the scalp. "As relaxers are caustic chemicals that can cause severe scalp irritation and hair loss, a petroleum based protectant should be liberally applied throughout the scalp, nape, front hairline, and ears," says Phills. "This process should never be skipped as it can greatly lessen or prevent scalp burns." As celebrity stylist Kah Spence notes, "We were told that if the scalp is 'burning,' the relaxer is doing its job, but that's actually incorrect." Another misconception is that Vaseline is a perfectly fine base to use. While it has petroleum in it, "you don't want to use anything that would adhere to these chemical processors and Vaseline could be a little too thick," says Wallace. Instead, most relaxer kits, like Phyto above, come with a base you should use.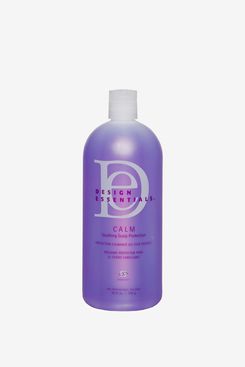 If for some reason it doesn't come with a base, they are also sold separately. Placide likes this one, which she says "prevents damage and soothes the scalp from any irritation."
Once the base is on, it's time to apply the relaxer. If this is your first relaxer, (also known as a virgin relaxer), apply it from root to tip and leave it on for no longer than eight minutes before washing it out, says English. To maintain your new straight locks you'll need what's called a touch-up every eight to ten weeks, and this is when the relaxer is only applied to the new growth at the roots.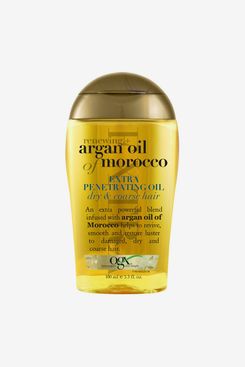 "Previously relaxed hair is permanently straightened, it doesn't require any additional chemical processing," says stylist Myss Monique. During a touch-up, to ensure no chemicals slide down on the already relaxed hair and over process it, English recommends protecting the shaft of the hair with an oil. "I'll use an argan oil to serve as a filler," she says.
Hopefully if you've been following our tips up to this point you've successfully relaxed your hair. In addition to trims, touch-ups, and regular trips to the salon, our experts stressed how important it is to keep chemically-straightened hair moisturized.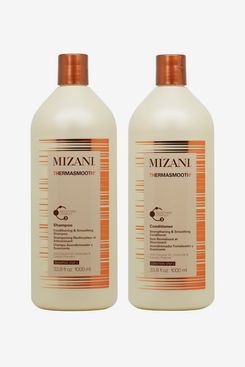 "If you're shampooing and styling your hair at home, get a moisturizing shampoo and conditioner," says Wallace. She says her highest recommendation would be Mizani's Thermasmooth line. Thanks to its C3 Smoothing Complex — cationic polymers, ceramides, and coconut oil — this shampoo addresses the specific needs of straightened hair. The polymers coat the hair to repel humidity and lock in shine, the ceramides strengthen the hair, and the oil adds that much needed hydration.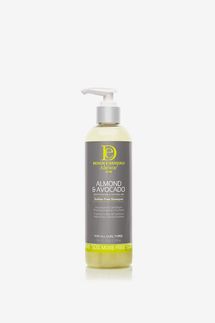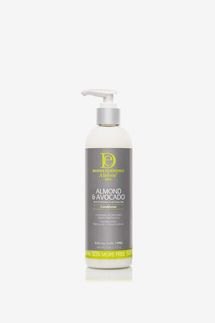 For about half the price, Placaide likes the Almond Avocado line from Design Essentials. It was specifically formulated for chemically relaxed hair to help restore its natural luster. This conditioner also helps with frizz, dehydration, and breakage — all things your hair is more susceptible to when it's chemically treated.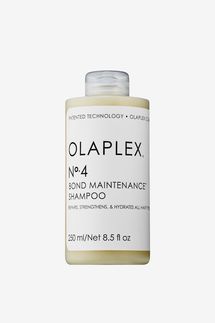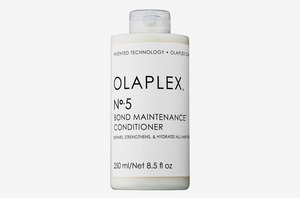 "Relaxer aftercare should ideally include weekly or biweekly shampoo, conditioning and a roller set or blow out as this helps to keep the hair hydrated, smooth and straight between touch ups," says Phills. It's no surprise she recommends the Olaplex system for that. The line has been recommended to us time and time again. The shampoo specifically is loved for color treated hair as it "repairs protein bonds in hair, limits split ends and subsequent hair breakage, and helps keep hair smooth and frizz free," Stephanie Louis, the chief executive and operating officer of Stylebox Salon, told us, which is equally as important for relaxed hair. The conditioner is also a stylist favorite and is so thick and moisturizing, we've heard it doubles as a hair mask too.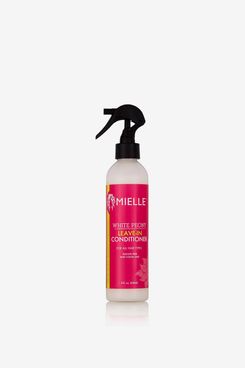 Some of the stylists we spoke to also recommend a leave-in conditioner for added moisture. "Your hair type will determine which products are best for keeping it nourished and moisturized," says Spence, but his personal favorite is this lightweight spray from Mielle Organics. It won't weigh down your straight hair, and it doubles as a heat protectant, so it's perfect to use before you go in with your blow dryer or flat iron.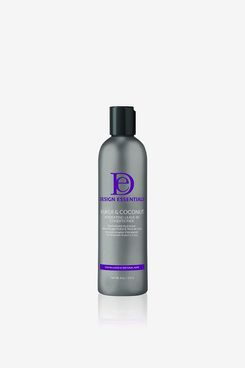 Placide loves all things Design Essentials, but says this leave-in works particularly well on relaxed hair. It's designed for extremely dry and brittle hair, which it brings back to life thanks to the botanical extracts and jojoba, coconut, sweet almond, and avocado oils in this formula.
Not all of our experts like using oil in relaxed hair. "I'm not one to use a lot of oils because I like the hair to be very flowy," says Wallace. "If the hair is healthy it does not require heavy oils or paraffins that will just build up on the hair." If you do think your hair requires oils, she recommends something light weight. Phills likes this one because "it effectively treats dry or flaky scalp patches, while not being super heavy." She recommends having some around to occasionally apply to the scalp or ends.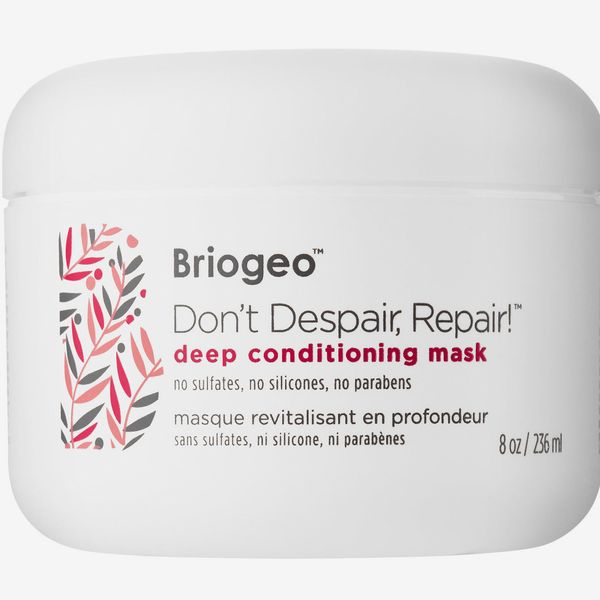 "You should use a gentle moisturizing shampoo followed by a conditioning treatment once or twice a month," says Monique. She has several favorites and one of them happens to be this Strat-favorite Briogeo mask. Rio loves it for bleached, dry hair. "This mask has a great consistency — not too thick or rich, not too light," she says. "It's formulated with rose-hip and argan oils, algae, and biotin — all of which replenish, rejuvenate, and deeply condition your hair." Another writer with 4c hair, who was initially skeptical about this genuinely working on all hair types, was proven wrong when ​​the mask detangled her hair "leaving me with shinier, fluffier hair that is pillow-soft to the touch."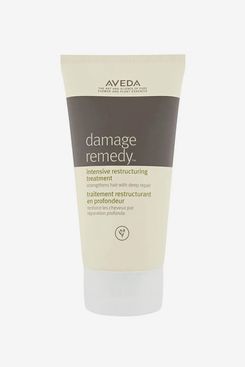 This Aveda mask is another one of Monique's favorites. We've previously recommended it for nutrient-deprived, dry hair because it uses quinoa protein to repair and has other moisturizing ingredients, like meadow seed foam and castor and jojoba oils.
The Strategist is designed to surface the most useful, expert recommendations for things to buy across the vast e-commerce landscape. Some of our latest conquests include the best acne treatments , rolling luggage , pillows for side sleepers , natural anxiety remedies , and bath towels . We update links when possible, but note that deals can expire and all prices are subject to change.
How to Care for Your Relaxed Hair, According to Hairstylists